Last Updated on August 23rd, 2022
Blackmart is a huge market for games and apps. It is a popular online app store and you can now find many alternatives to it.
Android devices have a significant advantage over iOS once cause you can install several applications from unknown resources on them. You need to allow installation from unknown sources onto your device and then enjoy it for free.
This article lists the best alternatives to Blackmart that have a similar function and are free of cost. We will list the top ones for you.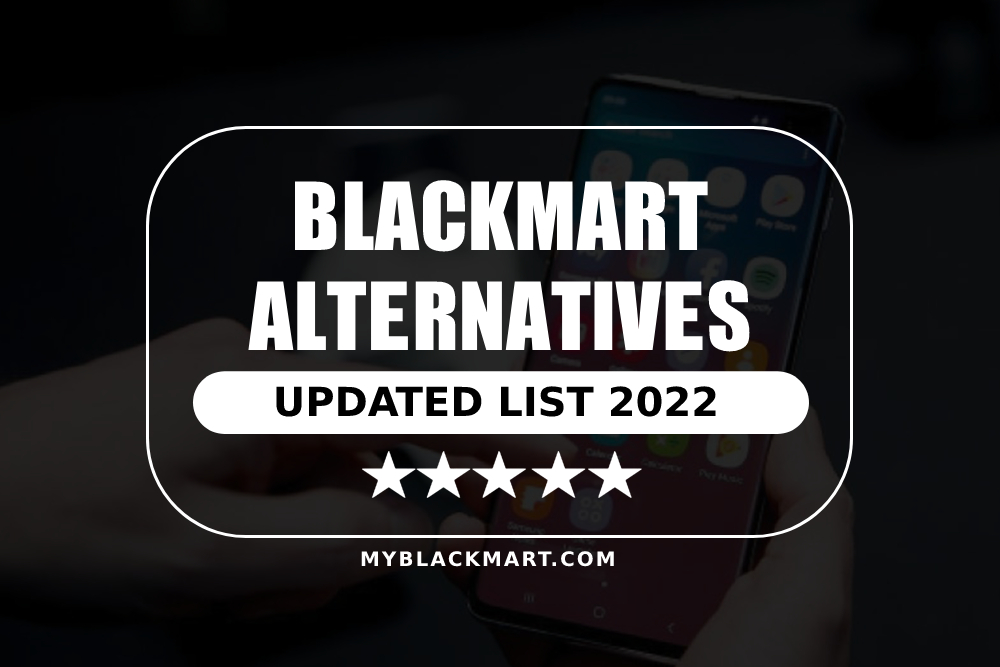 It is a directory of free Android apps that you can use for downloading apps onto your device. F-Droid helps you to easily download applications onto your device and keep track of their updates.
If you don't want to download this app onto your device you can simply browse it on a web browser and download the app directly from there. All the applications on this repository are free of cost and open source. Continuous efforts are made to keep this in check by visual inspection.
F-DROID is a free app store for Android users from which they can download a variety of apps, games, and software. F-DROID lets the users access the app code. This makes the users more aware of the app development process and improves their programming knowledge.
APTOIDE is a great substitute for the Google play store that lets you download a variety of new games and apps. This app can be used on any android device.
It is an independent app store where you can access all the top application varieties without any limitations. The best feature of this app is that it provides a channel to distribute your favorite Android apps and games.
APTOIDE store contains a variety of games and apps which you can browse and download from. It has a design similar to the Google app store. It contains several categories into which all the apps are divided to save your time.
APTOIDE is used to power the app store of 6 leading smartphone brands around the globe which means it surely is one of the best.
Is Aptoide Safe?
Yes, the Aptoide is safe. It is just like other App Stores to download games and apps.
Is Aptoide illegal?
No, the Aptoide is complete legal. Aptoide is an Online Marketplace for apps for Android.
It contains one of the biggest app assortments for Android users. Blackmart is a superb substitute for the Google play store. You can download many free applications onto your Android device using it.
This app has a somewhat different way of operating than all other app providers.
It is a popular application that can be used by its users for downloading their desired apps onto the devices. This app however has some limitations in some countries where its users are restricted from using the replacement tools.
You may like:
It is an app store owned by Amazon that can be used on both Android and Kindle devices. This app store is providing its games and apps to the users. Kindle is developed by the Amazon app store.
Amazon app store for Android devices has a higher number of applications than on Kindle. In addition to app users, the Amazon app store is a great place for developers who want to give their content to the audience for reviews.
It is one of the most searched for Android app directories on the internet. This is useful for all the Android users present in any part of the globe. It is a popularly used platform that provides you with a wide variety of applications for download. App brain is involved in the management of the apps as well.
One distinct feature of the app brain is that you can share the apps you downloaded using the app brain with your friends. It's considered the second biggest Android game store after Google play store.
Fossdroid provides open-source apps and games for Android users. It has a vast variety of apps and games. It is not an independent application store as it's backed by F-DROID. Most of the applications available on this app are also a part of F-DROID.
Here you can access all those apps that are hard to find on the official Android app store. It manages the apps and works much similar to the google play store.
GetJar is an independent application provider used for multiple mobile operating systems. It has a huge amount of content for Android cell phones and tablets. GetJar allows has themes, APK and lots of other stuff under one platform. Presently GetJar has about one million apps and games for Android users.
8. Zeusmos
It is a pc free code signing application that can be used for sharing and installing apps without any red tapes. It is a comprehensive app that can be used by both ios and Android users. You can download apps using Zeusmos on both jailbroken and non-jailbroken devices.
It is a great application due to its efficient user interface. To use this app you need to download it onto your device and then you can enjoy all the apps for free.
Highlight features of this app include a simple user interface, a magnificent variety of applications, and several categories so it becomes easy to explore.
9. Opera Mobile Store
Opera is a browser-based app market. It is used mostly by Android users but it also contains apps of other mobile operating systems. The number of Android apps however is much more than others.
Initially, the app was designed to provide apps from a third party. Now it has its network of developers who keep developing new apps for the store. It is becoming a renowned alternative among Android users.
10. 1Mobile
1Mobile is a great platform that contains the best apps from the Google play store chosen by editors. This app was created to provide APK downloading services to people around the globe.
It is a fast, powerful, and easily accessible APK provider. Its auto-complete search box helps you to discover top applications.